Top of the league in August, Ards arrived at Windsor Park on a run of three defeats in four matches. Just over ten minutes into the game, they were on their way to four defeats in five games as Linfield turned on the style.
Linfield were straight on the attack, Paul Smyth forcing Ards goalkeeper into a save from a header. Once again, Smyth was involved in most of Linfield's attacks. He wasn't the only one, forming an attacking trio with Ross Gaynor and Kirk Millar. When Linfield were attacking, at least one of them was involved.
A goal for Linfield wasn't long in coming, and it came on 7 minutes when a Paul Smyth cross wasn't properly cleared, it fell to Stephen Lowry who played a simple pass to the unmarked Aaron Burns, who fired home.
As soon as Burns got the ball, there was only going to be one outcome.
Within a minute, Burns thought he had made it 2-0 when he fired home from close range from a Paul Smyth cross, but the goal was disallowed for offside..
A quick free-kick set Paul Smyth free out wide, and his cross found Stephen Lowry, who fired home.
The last time Ards visited Windsor Park, Linfield blew a two goal lead to draw 3-3 in a game that let Cliftonville back into the title race in 2014. There was no danger of that happening today. There weren't even fifteen minutes on the clock, and the game was won for Linfield. The only question, was how many?
After that, Linfield eased off for a while. All Ards could offer was a speculative long-ranger shot. After easing off, Linfield stepped up a goal, with Stafford and Burns having attempts on goal.
It was only a matter of time before Linfield made it 3-0, and it came when Paul Smyth and Chris Casement toyed with Ards before setting up Kirk Millar to finish.
The waves of Linfield attacks continued, with Aaron Burns hitting the side netting from a wide angle after being played through, while Mark Stafford hit the woodwork from a corner.
Natuarally, the second-half wouldn't be as intense as the first-half, but Linfield still had chances, Paul Smyth having a weak shot saved in the opening minutes of the second-half.
Just after the hour, Linfield made it 4-0 when Ross Gaynor's cross was put into his own net by Emmett Frairs. If he didn't try to cut out the cross, Aaron Burns would have had an easy finish from a few yards out.
A start today was Burns reward for goals off the bench in his last two games, with Andrew Waterworth being dropped.
4-0 up, it was the perfect time to bring on Waterworth and Kris Bright. Waterworth forced Ards keeper into a save, but when the game is long won, the attacking intensity isn't the same.
Today marked the opening of the new bar at Windsor Park, in the corner of the South Stand and The Kop. My own impression was that it was underwhelming.
The thing that stood out, was no TV. When the old viewing lounge was there, I would pop in to check half-time scores in England and Scotland. I was hoping to go in today and watch the United match today. I doubt I was the only one thinking this.
It's quite a basic thing and not having it is going to turn people away from the bar long-term if they can't watch football on TV before the game, or have Soccer Saturday on while watching the match.
By the way, there is an excellent view of the game from the bar. Bit of a pity that you can't watch the game from the balcony though.
Next up for Linfield, is a domestic double header against (barring any recruitment activity in BT4) two former managers, with the Scottish Challenge Cup tie against Queen of the South.
I'm always nervous going into games against Glentoran, but even more so given their form and league position. I've been more confident going into games against them when they've been top of the league.
A repeat of today's performance, and we'll be fine.
Some curious stats around today's game, it was the third time in the last four home games that Linfield have scored four, and it was Linfield's fourth clean sheet in eight games.
Long may this continue at both ends of the pitch.
Upon return from Dumfries, is a League Cup tie away to Ballymena, a competition we're rarely still in come November. Would be nice to win it for the first time in, whisper it, eight years.
The League match against in-form Ballymena has been postponed due to the Challenge Cup, as has Crusaders match against out of sorts Glenavon. It's fair to say those postponements have worked in Linfield's favour.
The situation regarding postponements is one to keep an eye on. We're only one game behind and there's a date confirmed for it, Tuesday 18th October at Solitude. So it's not that bad.
It's been a good weekend for the club, with the Women's team winning the Irish Cup and the Swifts getting through to the Quarter-Final of the Steel and Sons Cup.
The way the calendar falls this year, the final will be on Christmas Eve, which is a lot more convenient to attend. Hopefully, they can get to the final this year.
You may or may not have seen it this week, but Linfield got an apology this week from the Belfast Telegraph for a story printed in July about Linfield fans causing trouble in Dublin.
Unsurprisingly, this turned out to be bullshit.
I remember seeing it on the news stand when it was published and instantly dismissed it.
That was on the front page. I'm led to believe this apology was on page six.
If you want to read it, you can find it here.
If you don't want to give them a hit, don't worry, here's a screenshot of it.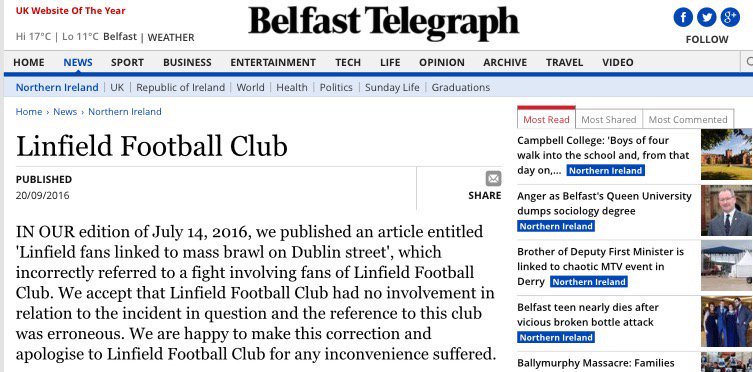 As you can see, it's a C minus of an apology, just about scraping the basic requirements, apologising for "any inconvenience suffered".
Obviously, "We were wrong", "We lied" or "It wasn't true" was too much of an inconvenience for them to publish.
The decline in standards at Belfast Telegraph in recent years can be addressed elsewhere. Possibly in a viral video. That's the only type of story they do these days. A few weeks ago, they did a story about a video of a baby farting "going viral".
Elsewhere, the corporate launch of Euro 2020 was this week. I know, Euro 2016 has already been consigned to history.
This tournament will have no host country but will take place all around Europe. An utterly farcical idea.
However, i'm a total hypocrite, and i'll be keeping an eye on the schedule, to try and see what games in Dublin or Glasgow I can try and get to.
And finally, i've launched a series this week looking at the Windsor Park redevelopment from start to finish. You can find a link to it here.
The next time Linfield play a match at Windsor Park, against Ballinamallard on October 15th, the redevelopment will be complete.
Hopefully, there'll be TVs in the bar by then.