It's the summer of 1996 and Fabrizio Ravanelli is the cover star of Football Italia, as he gets ready to head to England for Euro 96. Little did we know, that a few months later, he would be making England his permanent residence.
The editorial focuses on Channel 4 clarifying that they're not ditching their live coverage of Serie A, as they were unable to show recent games due to a combination of players taking strike action, and games being moved to Saturday.
In news, Fabio Capello is leaving AC Milan for Real Madrid, while Carlo Ancelotti is replacing Nevio Scala at Parma. In transfer news, Aron Winter is signing for Inter, while Gianluca Vialli has held talks with Parma, Rangers and several Premier League clubs.
There was a double page spread dedicated to the recent player strike in protest at the governing body negotiating a TV deal without consulting players and the increase of violence in stadiums. Gianluca Vialli's involvement in organising the strike saw him be nicknamed "Robin Hood"
In more news, Mark Fish has signed for Lazio, becoming the first South African to play in Series A, while Michael Jackson was staying in the same hotel as the Parma team before their European Cup Winners Cup tie. Fulham supporter Jackson turned down the opportunity of a Parma scarf.
John Helm does a double page spread where he visits Chimney House Hotel in Sandbach, Cheshire, which will be Italy's base during Euro 96. The hotel had to order in a bed specifically for Italy's tall goalkeeper Sebastiano Rossi.
Italy weren't the first team to stay there according to the manager of the hotel, they usually get away teams facing Crewe Alexandra staying there.
There is a four page spread focusing on the rise of players in Italy's top two divisions who are well into their 30s, such as Pietro Vierchowod, looking forward to a European Cup final at the age of 37.
Football Italia previews Euro 96, with a guide to what games are live on what channel in the UK, and a team by team preview, expecting Italy to beat England in the semi-final before beating Holland in the final. Italy went out in the group stage.
It is predicted that Russia will get a lot of local support at their group matches at Old Trafford and Anfield, due to them having Everton's former Manchester United player Andrei Kanchelskis in their line-up.
Both finalists, Germany and Czech Republic were predicted to go out in the group stages.
All three European competitions are reviewed ahead of their finals, and it's a relatively bleak year for Italian football, with Parma (European Cup Winners Cup), Roma and AC Milan (UEFA Cup) all exiting at the quarter-finals.
Juventus are in the European Cup Final to face Ajax, in what is expected to be Gianluca Vialli's last game for the club.
After Genoa beat Port Vale 5-2 at Wembley, Football Italia does a double page spread asking if the tournament should be scrapped.
James Richardson's column previews Italy's chances in England, noting that, for many Italians, the jury is still out on manager Arrigo Sacchi.
Ken Wolstenholme debuts his column, where he went to a Serie A game for the first time, Fiorentina v Juventus, where met the chairman of a London based Fiorentina Supporters Club, who are now on the internet, the link is posted by Wolstenholme.
As the magazine ends, the editor's column focuses on the vacant England manager position, suggesting that the best contender is working in Serie A – Roy Hodgson of Inter Milan. It only took the FA 16 years to take his advice.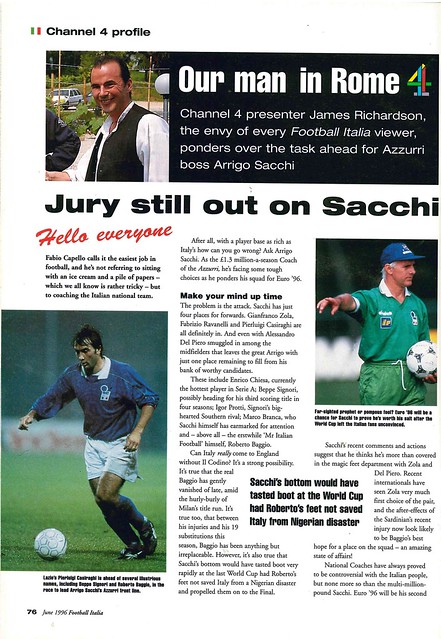 3